Reclaiming My Voice and Roots
Reconnecting with Soul and Ancestral Wisdom
June 27-30th | Casa Grande Mountain Retreat, Utuado, PR
Reclaiming My Voice And Roots Retreat helps women and femmes of color struggling to find their voice by releasing their emotional wounds and restoring connection with intuition, soul, and ancestral wisdom to journey life feeling more empowered and grounded in who they are.
I WANT IN!
Dear loving BIPOC community, healing from the emotional scars living inside you,
So much of our journey is about finding our voice. We often lose our voice early in life, when we are silenced through painful childhood experiences.
Sometimes this happens at home.
Oftentimes we learn to silence ourselves from the systems and toxic environments we grow in.
We are told and shown that our words don't matter.
Our feelings don't matter. Our bodies don't matter.
The historical trauma in our lineages has created legacies
of wounding passed down the generations.
Our ancestral grief follows us like a shadow.
It is both an individual and collective grief.
A grief so heavy that we cannot hold by ourselves.
We begin to feel disconnected to our roots, our soul, and our intuition.
We grow further and further away from our truest nature.
Does this sound familiar? Is this part of your story?
Love, we need you to know that you're not broken.
But you may hold within your heart burdens of shame and people-pleasing.
You might struggle with being vulnerable and trusting others, including yourself.
Know that your healing journey is liberation work.
It is reclaiming what was taken from you and was your birthright.
Feeling safe in your body, owning your power, your connection to Soul,
ancestors, your voice, your Self-trust and love.
This is YOURS. It was always Yours.
It's time to retrieve all that has been lost and taken from you.
Are you ready to reclaim your voice, your roots, and finally see ALL of you?
We have curated something so beautifully special, and we're putting so much heart, love, and soul into this offering just for you.

In this retreat, we'll guide you into your inner world and help you witness what lives within you. You will connect with different parts of you, practice holding yourself with compassion, and talk about your undigested grief, including the grief of being uprooted from your ancestral land.

You'll have the experience of being loved, held, and cared for by our group.

We will take daily walks on the hiking trails, visit the natural river with waterfalls, build community as we're swimming in the saltwater pool, sit around the fire, laugh, dream and set our intentions together.
We will engage in rituals and ceremonies to help us collectively release internalized messages, shame, and pain from our inner child and from our lineages.

We will work toward reclaiming and reconnecting more to our roots because when we feel more grounded and rooted in who we are, we embody soul energy. We fully embrace our voice and power. We give ourselves permission to take up space again and reclaim what is ours.

Will you join us? Will you be part of this community of grounded and connected BIPOC women and femmes fully embracing our voice and power?
SIGN ME UP!
This retreat is for you-
Women and Femmes of Color
✅ If you struggle with people-pleasing, shrinking yourself, or speaking up.
✅ If you're feeling shame and loneliness.
✅ If you're needing the space to grieve the loss of connection to your Soul, land, and ancestors.
✅ If you're afraid to be vulnerable, be seen by others, or fear seeing yourself.
✅ If you have a hard time setting boundaries.
✅ If you feel guilty taking up space and caring for your needs.
✅ If you're uncomfortable receiving love, or scared to love.
✅ If you're wanting to heal your relationship with your inner child(ren).
✅ If you're tired of always being the "strong one" and pushing through everything.
✅ If you're wanting to build community with other women and femmes of color on the journey toward reclaiming.
✅ If you're of the Boricua diaspora and are trying to deepen your connection to your roots.
Our retreat days together will begin co-regulating with nature as we greet the morning, walk through the trails and take in the love of the mountain valley.
We will spend our time together in community, courageous conversation and both inner and collective processes.
We will make space for rituals, including grief rituals and that of reconciliation.
We will travel inside and work to see ourselves more.
We will see and hold each other more too.
At the end of our days, we will continue building together. So much of healing really is about doing it in community.
Connection, both inside and out, is the antidote to stress responses from trauma.
Our intention really is to co-create and facilitate a sacred space that feels loving to everyone in it.
Preliminary Itinerary for Retreat
June 27-30th
The journey will also include:
A community-based group chat (WhatsAPP) to foster connection with each other before and after the retreat

Pre-retreat group call: tentatively scheduled for TBA

Post-retreat group calls: 3 monthly calls to help integrate what was revealed in the in-person retreat and into your day-to-day life. They will be on TBA
The Venue-
Casa Grande Mountain Retreat
"Set in a stunning valley on 105 lush tropical acres, Casa Grande Mountain Retreat is the perfect oasis of peace and tranquility. The former coffee plantation, now exquisitely landscaped, has 20 rooms scattered up in the mountainside with a beautiful river as the lower border"
Double full rooms and limited Single queen bedroom rooms with en-suite bathroom, private porch, and hammock.

Salt-water swimming pool.

Fully equipped yoga center called El Templo

Plant-based farm-to-table locally sourced food made by private chef

Multiple river waterfalls (río Canonillas) that you can swim in

Hiking trails
Investment
Limited to 24 BIPOC women and femmes
*Does not include airfare + transportation to and from site*
Single Occupancy Options
*1 Room Left*
Double
Occupancy Options
(folks get their own bed and share a full bathroom)
Application Process
Given the nature of this healing retreat, the application consists of a 30-mins call with both of us to further explore if the retreat is in alignment with those we're calling in to participate, and what you need/want.
Please know that you're worthy of this exploration call and this healing. We want you to know that this isn't an evaluative call, but an informal call just to get to know you, and for you to get to know us too- and ask any questions you may have. You have a right to this journey if you give yourself the permission to say yes to yourself.
A little about

Dra. Lydiana,
¡Hola! I am a Boricua licensed psychologist with over 14 years of experience helping mostly women, femmes and families navigate, manage and learn ways to overcome the effects of traumas (including generational and collective trauma). I am passionate about helping them reconnect with their soul, truth, authenticity, and gifts after trauma. As a fellow human and Boricua born and raised on the Island, I grew up internalizing that who I was, was not good enough, and that I needed to "be" someone that people would accept in order to stay safe. This internalized belief of not being good enough worsened upon moving to Los Angeles to complete my doctoral internship. I literally lost my voice - now had to speak in English, and severed my roots by trying to "fit" the role of a professional euro-centric psychologist.
After leaving corporate America (mostly community mental health jobs) in 2016, I began a journey of recognizing the masks, releasing the ones that are no longer my truth, and reclaiming and reconnecting with my authentic voice. I'm not there yet completely, as it's a journey, but as I continue to move along in it, I have also started to help others embark on it. I can't wait to have you! It will be an honor and a privilege :) Besides this work, I am also a mama of 2 little ones, a wife, and a fellow traveler.

In terms of my approach: I am trained in EMDR, Sensorimotor Psychotherapy Level 1, Trauma Resiliency Model Level 2, Seeking Safety, and other modalities that are considered gold standards to treat trauma. However, I mostly integrate and let my intuition guide the approach, and I adapt to the needs of the client. My style tends to be more of a gentle, non-confrontational, and non-judgemental way. To learn more about me and my gifts as a psychologist, I invite you to listen to these episodes in Licensed Psychologist, Now What? podcast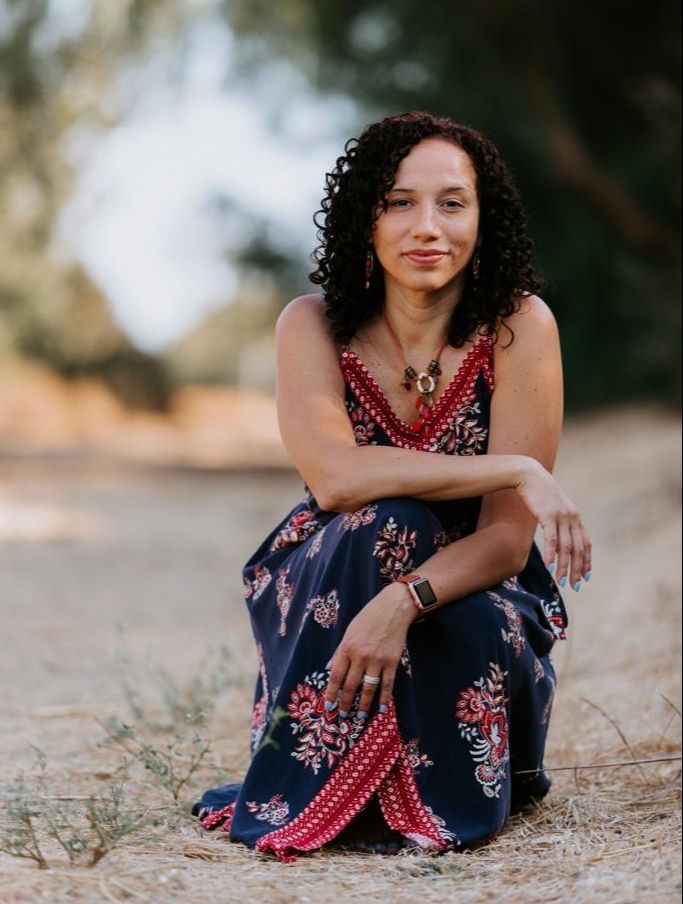 Hola stellar soul,
I'm Natalie and I'm a Boricua licensed therapist in New York. I guess you could also say I'm Nuyorican, since I grew up in New York. I've dedicated 15 years to trauma counseling in my private practice. I specialize in helping BIPOC reel from the soul wounds of Complex Posttraumatic Stress. I've held space for people on the healing journey navigating the pain of racial trauma, intergenerational trauma and legacy wounds, and sexual trauma. Professionally, I'm a Certified Internal Family Systems Therapist, also trained in Eye Movement Desensitization Reprocessing (EMDR), and am Dialectical Behavioral Therapy (DBT) informed. I'm also the author of The Pain We Carry: Healing from Complex PTSD for People of Color, released October 2022.
For a long time, I struggled finding my voice. If I'm honest, I think I've always felt afraid of it, or afraid of what would happen if I used it. I learned growing up to silence myself, both in my home and in school. As a Puerto Rican of the diaspora, many of us have been discouraged to speak Spanish and are forced to assimilate. I remember only speaking Spanish when we would travel to Puerto Rico to visit my family, but at school in New York- it was English only. I held so much grief about the loss of some Spanish language, loss of connection to my roots and my ancestors—because of messages entrenched in internalized racism- "silence yourself to survive!" I also learned a similar messaging at home: speaking up for yourself led to punishment. And because of all this conditioning, I found myself struggling to set boundaries, care for my own needs, hold onto my voice, and often relinquished my power to survive toxic environments.
I've come such a long way to find my voice again, love. I've grappled with feeling invisible when I've exiled my voice and my soul energy. I've worked with my shadows and continue to tend the garden of ancestral grief. I now walk the journey of reclaiming the ancestral practices that I was taught to fear and judge. But I'm still becoming, just like you. My ancestors still mold me. I walk along this healing journey as an intuitive empath, and I remain intentional about embracing my intuition and connection to the spirit world. I'm truly looking forward to getting to know you!
What language will this retreat be led in?
Cancellation/Return Policy?
Transportation to and from the retreat?
What time do I need to arrive in San Juan in order to make it to the retreat on time? What about scheduling the flight for Friday, June 30th?
How are you setting up the room arrangements for those that will share the room?
Will there be Wi-Fi? Telephone reception?
What is the smoking policy?
Are there any scholarships? Sliding scale?
I want to sponsor someone's spot
COVID and other illnesses policy
I have more questions and would like to get in contact with Lydiana and Natalie